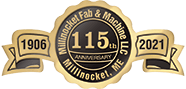 Millinocket Fabrication and Machine, LLC
Custom Fabrication, and Custom Machining of Parts and Assemblies Weighing up to 30 Tons.
We respond to short notices, emergencies, and deadlines with quality service, on time and on budget, every day.
We carry an extensive inventory of material in order to respond quickly to our customers' needs.
Our plant has been updated with modern equipment to increase efficiency and capability.
Millinocket Fabrication has always been a pleasure to do business with!
Contact Us Today
We are here for all of your machining needs!