At Millinocket Fabrication and Machine, we take great prices in our communication equipment machining. Communication and wireless equipment, parts, components, and sub-components must be precision machined to allow these systems to transmit and receive signals. Customers rely upon us for our 24/7 service, knowledge, and the expertise of our exceptional team of engineers, technicians, machinists, and welders.
Communication equipment fabrication requires the willingness and ability to respond at a moment's notice. Whether that involves machining copper waveguides, cutting and machining aluminum bars or aluminum fin extrusions, or machining steel, stainless steel, and brass, we have the in-house CNC machining capabilities to meet any requirement.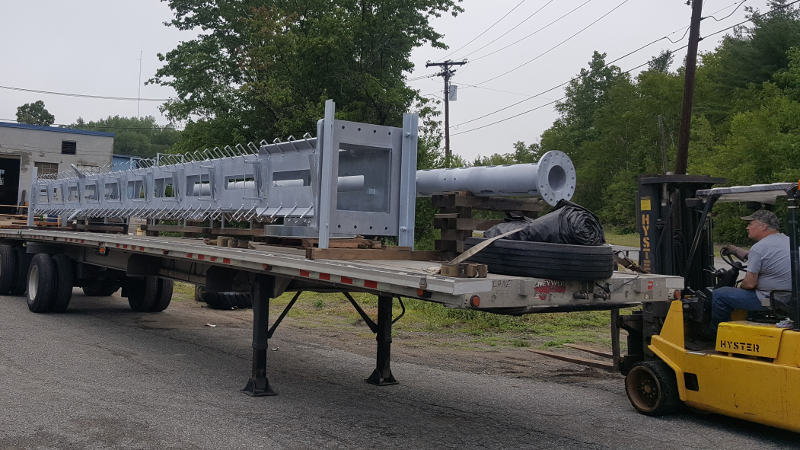 We are often called upon to help with telecom equipment machining and are well-equipped to machine and refurbish portions of communication towers. Oftentimes that includes either having portions of the tower delivered to us for repair and refurbishment or having us design, machine, and weld replacement parts.
Precision machining is critical for all kinds of Satellite Communication (SatCom), Telecom, Communication, or terrestrial earth-station equipment. These components require extremely tight machining tolerances. The material itself cannot have any defects, burs, voids, or inclusions. Millinocket Fabrication and Machine are extremely selective on material requirements for all our communication equipment customers.
Machining tolerances are critical for maintaining signal integrity. Even the smallest mm offset can have dramatic impacts on the signal frequency, causing harmonics outside of normal signal bandwidths. We understand just how critical these tolerances are and we are well-versed in multiple machining requirements for manufacturing Bury Pole Assemblies, Masts, Antenna Assemblies, Tees, and Mounts for the Broadcast market, Tv, radio, rf systems, and transmission lines.