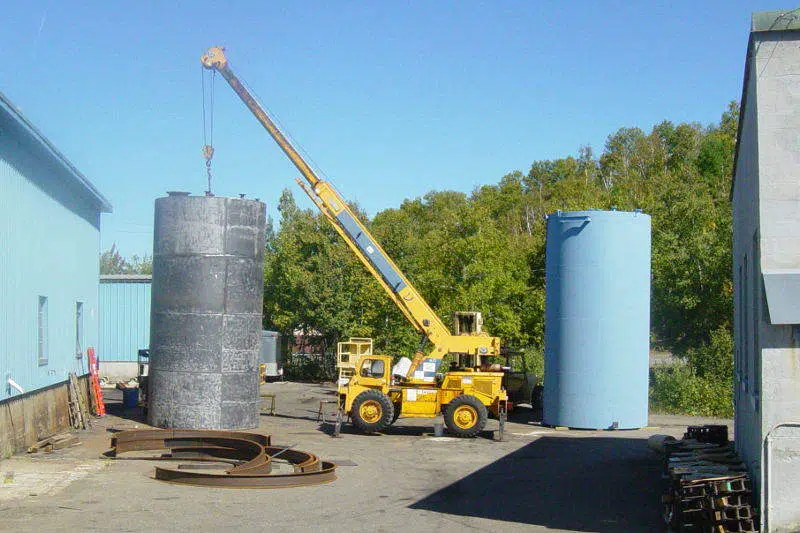 Millinocket Fabrication and Machine's custom double wall tanks are precision-machined and highly-engineered storage tanks that are capable of above-ground or below-ground storage. These double wall steel tanks are manufactured from high-grade steel where the main tank is surrounded by an outer steel wall that provides critical protection against spills or leaks. As a double wall tank manufacturer, we ensure that the insides of both walls are coated with an anti-corrosive zinc coating so that steel degradation due to corrosive chemicals is never a concern.
Essential Secondary Containment
]Our approach to designing and manufacturing double wall tanks starts with an overriding goal of ensuring the best possible secondary containment solution available on the market today. Whether it's manufacturing cylindrical double wall tanks with a fixed or floating roof, a pressure tank to hold ammonia, chlorine, or other gasses, or a smaller horizontal double wall tank for above or below-ground storage, we have the capacity and know-how to manufacture any size or configuration you need.
A Complete Solution
According to our customers, what differentiates our product and service offering is the ability to be a one-stop location for all their custom double wall tanks. That not only includes build-to-print capabilities but also includes a proactive and resourceful engineering, technician, and highly-qualified welding team with years of manufacturing and design experience.
All our tanks are manufactured with high-grade and high-strength steel. We are meticulous in choosing steel that is rated for below-ground storage. Applications include fuel storage of propane, butane, oil, natural gas in addition to multiple types of chemicals. Our customers come from multiple industrial and commercial industries. We can serve clients from contractors and municipalities to large-scale fueling sites.