A steel sleeve – commonly referred to as a steel core – manufactured by Millinocket Fabrication and Machine LLC has an anti-corrosive zinc coating that not only increases the service life of the steel but also protects the inner core of the sleeve from extreme heat, noxious chemicals, and hydrocarbons. We are a steel core manufacturer widely recognized for our high-precision steel sleeve machining and ability to work with extremely large pipe sleeves, ones that are often beyond the capabilities of our competition.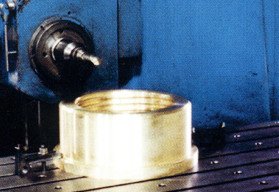 Steel sleeves are often associated with residential and commercial construction. However, there are multiple applications for this universal product. They are used for heat exchangers, fireproofing, boiler tubes, fuel tanks, and cylinders in addition to condensers and evaporators among others. The typical applications for our parts are used in oil and gas, speciality metals, mining, drilling, and commercial construction. These have sizes ranging from 12'' ID to 42''ID or larger to 84'' long
The industries that rely upon stainless steel seamless tubing include aerospace, energy, chemical processing, construction, and industrial engineering. So, what can you expect from Millinocket Fabrication and Machine LLC for your next steel sleeve project?
At Millinocket Fabrication and Machine LLC, we focus on providing a full-service solution to every steel core we manufacture. Our steel seamless tubing projects can be defined by the following critical steps.
First, we have the all-important project kick-off meeting where we meet with you, our customers, to review your requirements and assess the project's timeline. It's during this process that we use 3D rendering to provide you with a complete view of the steel sleeve.
Second, we begin the manufacturing process and leverage the full capacity of our 40,000 square foot facility alongside our heavy-duty CNC machining and milling. During this process, we provide you with real-time feedback on the project's timeline. This ensures you are well-aware of progress and are satisfied every step of the way.
Third, our quality control team periodically inspects and assists our technicians and engineers during the manufacturing process, providing feedback and information as needed. The final product is then meticulously inspected by our quality control inspectors before getting the final seal of approval.