Millinocket Fabrication and Machine's custom machining shop specializes in custom machining services for new, rebuilt, or reverse engineered parts. Our skillful and knowledgeable team machines large equipment with precision and efficiency.
We offer large custom CNC machining services and have some of the largest horizontal and vertical turning capabilities in New England. Millinocket's equipment can machine up to 14' in diameter, with 140" vertical x 21" horizontal full milling and thread cutting features.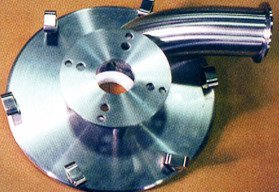 Custom Industrial Machining for Your Industry
At Millinocket, we have several lathes capable of meeting the needs of your industry's custom machining project. We specialize in custom machining services for industries such as:
Aerospace
Chemical Processing
Coil Winding
Construction
Consumer manufacturing
Electronic
Environmental
Food Processing
Glass Beverage Décor
Hydro and Energy
Metal Refining
Metal Separation
Military
Mining
Paper
Pharmaceutical
Resale
Shipyard
Solar
Turbine
Wastewater Treatment
Wood Products
Our custom machining services can accommodate nearly any industry's need for oversize component production.
Millinocket's Custom Machining Services Equipment
At Millinocket, our extensive equipment enables us to deliver large, machined parts with accuracy and consistency. Using Computer Numeric Control, our equipment produces components for various applications with incredible speed. Our machining equipment includes CNC lathes, horizontal boring mill, vertical boring mill, gear cutter, boring machine, and CNC milling machine.
The Benefits of Custom CNC Machining
In addition to our boring lathe, milling, and gear cutting equipment, Millinocket has other supplemental machines and services to get the job done. For example, a 15-ton overhead crane in our custom machining shop is one of the tools that give us a competitive edge.
We can provide patterns and machine castings in the following metals:
Aluminum
Bronze
Cast Iron
Metal Alloys
Ni-Hard
Ni-Resist
Stainless Steel
Steel
You can bring your own casting, or we can supply one to machine according to your specifications.
Custom Machining Services from the Experts
At Millinocket Fabrication &Machine, LLC, our mission is to solve problems through superior quality Fabrication and Machining services delivered on time and within your budget. We are fully committed to maintaining the highest industry standards at a competitive price.
Millinocket Machine's custom machining shop leverages state-of-the-art technology and high-quality equipment to deliver high-precision machining services for industrial purposes.
In addition to possessing the technical capabilities, we have an experienced and knowledgeable team that understands the nuances of large metal machining.
Stainless steel is notorious for distorting and expanding during welding. Our experts finish your stainless fabrication projects with flawless precision and professional results.
We can handle your heaviest jobs. Find out more about Custom Machining from the professionals at Millinocket Machine.