Lathe with 82″Swing x 21′ Centers
and Full Milling Capacity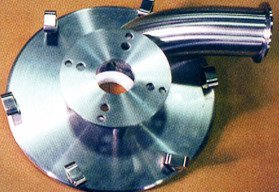 Millinocket Fabrication & Machine, LLC has a fully equipped machine shop that focuses on large machining requirements for new, rebuilt, or reverse engineered parts.
What sets us apart from other shops is our ability to work on that large part you need machined.
Large machining operations consist of machines capable of machining up to 14' in diameter as well as some of the largest horizontal machining in the industry: 140'' vertical x 21'′ horizontal with  full milling and thread cutting features.  We have some of the largest horizontal and vertical turning capabilities in New England.
We have several lathes with various capabilities:
Our Largest Lathe, The Crawford Swift Lathe features an 82'' swing, 21' center with Milling Head, English and Metric Thread Cutting, 30-ton capacity.  Work that we have done on the Crawford Lathe includes machining grinder shafts, and removing and installing  stones and flanges for repair or as new parts for the pulp and paper industry,  machining blocker forgings to accept liners for an extruded pipe project, replacing  sleeves on pinions for crusher gear box assembly, machining  trunnion wheels for energy plants, repair of  hydro runners, build up and machine down shaft for wood products companies, machine top plates for the pharmaceutical and food processing industries, machine distributor manifolds for waste water treatment and machine new shaft for rotary feeder repairs for Pulp and Paper among other things.
The 5'' Lucas Horizontal Boring Mill with tail stock features a 5'' spindle, 5'' x 10' table, 6' vertical travel x 35'' horizontal with 3 axis readout.  Work that has been done on the Lucas include cores for steel rolling, grinder shafts, main cylinder repair, bearing housing, large gears, pressure feet, side frames, chain flights, finger bars, bed knives, wood pushers, door guides and side plates for the pulp and paper industry, lump breakers, housings and wear plates for energy plants,  runner repairs, bearing housings, cylinders, flywheels, crown plates and sheaves for the hydro industry, planet hub assemblies, weldments, seal plates radiation shields for the aerospace industry and gear gases, seal plates, sleeves and gear cases for the environmental and food processing industry, cores and sleeves for the wire rolling industry.
The Schiess Vertical Boring Mill features a 90'' swing that can take a piece up to 5' high.  Some of the work that has been done on that includes Peripheral Walls, bottom plates, bottom liners, header walls for the pharmaceutical and food processing industries,  Grinder shafts, main cylinder repair, bearing housings, large gears, gear segments and stone flanges for paper industry,  Lump breakers, trunnions and housings for the waste management industry,  spin chambers, flanges, cylinders, expansion joints and  YU cylinders  for the environmental and food processing industry,  rock crushers for the construction industry.  Vacuum vessels, orbiter plates, planet hubs, and cover assemblies for the aerospace industry, and expansion joints, flanges, sheaves for resale.
Our Newark Gear Cutter is equipped to cut Gears up to 90'' in diameter. If we cannot cut your gear in-house, we can get it done for you. We supply gears, worm pinions and repair cast or refill nylon gears. We have been supplying gears to industries for over 60 years. In fact, Millinocket Fabrication & Machine, LLC was one of the first companies to make nylon filled gears in New England.
We have a series II CNC Bridgeport.  Some of the work that has been done on that includes base cup tooling for the Glass beverage décor business, latch hinges for aerospace, bushings for the hydro industry while also completing small parts for some of our larger projects.
Our CNC Cincinnati Milling Machine is 3 axis and has a 100''x 60'', 40'' travel.  Work that we have done on that include, bushings, base plates and turbines for the hydro industry,  Orbiter gear, top plates vacuum chambers, drum assemblies for the solar and defense industry,  rotors, cyclone and classifier assemblies for the military powder industry, trunnions,  wear plates,  dam parts for  the US Army,  chambers for the turbine industry, plates for the shipyard industry, yu cylinder, peripheral walls, base plates for the metal separation industry,  drum assemblies, hinges for the environmental engineering industry, antenna mounts for the electric industry  and blocker forgings for the mining industry.
The Berthiez Vertical Turret Lathe can turn up to 142''. Work that we have done on the Berthiez includes timing crowns, distributor assembly, dryer heads for the metal refining and chemical processing industries, Gear Housing, top plate and cone hoppers for the food processing and pharmaceutical industry, face plates for coil winding industry, and drum assembly for the environmental industry.
The Bullard Boring Machine has a 36'' swing with 2 axis digital readout.  Machining done on this includes Rotary valves, bottom plates, distributor manifolds, peripheral walls, timing crown, ss cyclones, high hats, and antenna poles among many other things.
We have a full line of machining equipment to supplement the major equipment mentioned above.
We have up to a 15-ton overhead crane in our machine shop.
We can provide patterns and machined castings in steel, cast iron, bronze, aluminum, ni-hard, ni-resist, stainless and many other alloys.  We can supply the casting that you need or use your casting to be machined to your specification.
We recognize the importance of maintaining the highest quality standards found in the industry as well as being price competitive.  The mission of Millinocket Fabrication & Machine, LLC is to be a problem solver by providing value added Fabrication and Machining services of superior quality to industry, on time and on budget.