Millinocket Fabrication and Machine is a full-service machine shop that specializes in large CNC machining. We have the capacity to handle any size job, no matter how big or complex it may be. Millinocket Fabrication and Machine is equipped with the latest technology allowing us to complete large jobs quickly while maintaining high quality. We offer competitive pricing and have the ability to work with you on a project-to-project basis or as a long-term partnership. So, when you need large parts machined, call us today!
With our cutting-edge CNC equipment, we can handle any job from prototype design to large production runs. We have the capacity to machine parts that are larger than most other machine shops.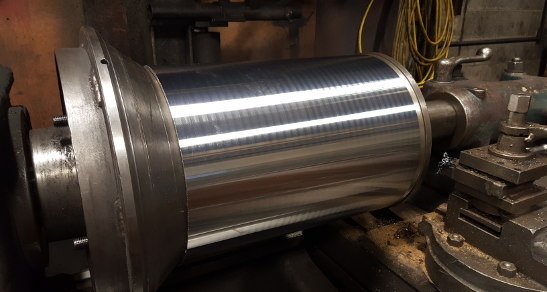 Reliable Large Capacity Machining Services
We specialize in machining bulky and hefty manufacturing equipment parts and large fabrications because small-capacity machine shops are unable to work on these types of big-scale projects due to the lack of appropriate work zones, enormous machinery, or machine tools that handle pieces on such a grand scale. These kinds of large CNC machining services are the core competencies at Millinocket Fabrication and Machine. We have been helping businesses in all different industries tackle large-scale projects for over 50 years with a full range of fabrication, machine work, welding, parts manufacturing, and other design services. Though we do specialize in large part machining.
Our CNC machines include:
Capabilities for All Phases of Manufacturing
Rely on Millinocket for a wide range of machining processes including milling, drilling, and turning. In addition, we provide in-house fabrication and project assembly. From prototype design to full-scale production runs, we can help with every step of the way.
Our Large Machining Processes Include
Milling – Uses a rotating cutting tool to remove material.
Drilling – Drives a hole in the material with an end mill or drill bit.
Welding – Joins pieces of metal by using heat and pressure; also referred to as brazing.
Fabrication – The construction of a product from materials that are supplied in large pieces or in the form of raw material.
Project Assembly – Joining individual parts into a complete piece.
Why Customers Choose Millinocket for their Large Machining Needs
We are the best choice for your large part machining needs. Our CNC machine capabilities, combined with our advanced technology and quality control measures ensure our customers receive high-value, notch production parts that meet their specifications. We offer competitive rates, quick turnarounds, and most of all: accuracy. We help make your product development process easier, faster, and more cost-effective.