Millinocket Fabrication and Machine specializes in steel sleeve machining services as well as making parts with a steel core. We provide custom-made steel sleeves and parts for any large job. Our steel sleeve machining services team is ready to help you with your project today!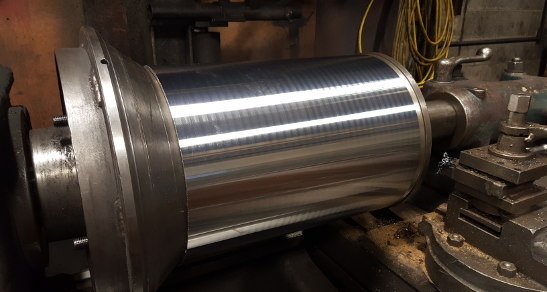 What are Steel Sleeves?
Steel Sleeves are used to protect the substrate core hole where subjected to hydrocarbons, high temperatures, aggressive chemicals, or where a fire rating is required. They are made from a variety of steel alloys depending on the end-use and can be manufactured by most recognized methods. The most common method to manufacture these sleeves is via an extrusion process, although they are also fabricated using rolling or punching techniques. We fabricate Engineered Steel cores with the typical grades of Carbon and Stainless steel.
How are Steel Sleeves Used?
Custom steel sleeves can be used for a variety of purposes including:
Fuel Tanks & Cylinders
Boiler Tubes
Heat Exchangers
Fire Walls / Fire Resistant Structures (Fireproofing)
Fire Protection, Safety and Security
Condensers & Evaporators
Heat Pipes
Pipeline Hangers & Supports
What are Steel Cores?
A steel core is a metal structure that makes up the center of an object. They can be used in a variety of industries such as aerospace, energy and chemical processing, construction, and engineering.
Steel cores can be made using different metals or alloys, but the most commonly used steel cores are carbon steel and stainless steel. These core materials can be manufactured by a variety of methods such as machining, forging, or casting. And they typically aren't solid. Instead, they have perforations to reduce weight and cut down on corrosion risk due to water and moisture penetration.
Our Expert Process
The process of fabricating steel sleeves and parts with a custom steel core can be divided into five steps:
Planning – We work together with you to determine your specific needs for the project. This is done through information gathering, drawing preparation, and 3D rendering.
Manufacturing – This involves cutting the steel tube with our Heavy-duty CNC machines.
Finishing – The finished steel sleeve or part is then inspected by our team of quality control inspectors.
Tracking – We also provide tracking services throughout each phase of your project to ensure that you are satisfied with every step. We want your custom steel parts to be safe and installed properly on the first try every time!
Our steel sleeve machining services include:
heat treating
rust proofing
zinc coating to prevent corrosion and increase the service life of the product polishing
If you are looking for steel core fabrication and machining services in the Millinocket area, we have them. We can make custom-made parts with a steel core for any large job or project that you may need. Our steel sleeve machining services are designed to meet the needs of your business.
Why Choose Millinocket?
Millinocket Fabrication and Machine is your smartest source for high-quality stainless steel turned parts and components. We provide fabricated steel parts and custom steel machining services to a large client base. We have an established reputation in the industry for delivering superior service and products, and are dedicated to you! Our skilled staff has over 25 years of experience, allowing us to meet our customers' needs for precision stainless steel parts with efficiency and quality.