Millinocket Fabrication and Machine custom fabricates vacuum systems, custom vacuum vessels (tube and flange type), custom vacuum furnace chambers with tube type cold heads, and plate type cold heads for a wide variety of applications such as cryo-vacuum freeze dryers, medical sample storage, glass melting furnaces, etc. Our custom vacuum systems are made of carbon steel, stainless steel, and aluminum materials.
The history of Millinocket is filled with experiences in vacuum chamber fabrication. In particular, we know how to build and design them well due to a manufacturing process that has made hundreds over the years. Our continued experience ensures you'll get as much precision machining from us for your project as possible. Once fabrication is complete, we can use the helium leak rate test method to ensure that you have a high-quality vacuum chamber. With our experience in fabricating vacuum chambers of all sizes and weights, we can make sure your project's needs are met.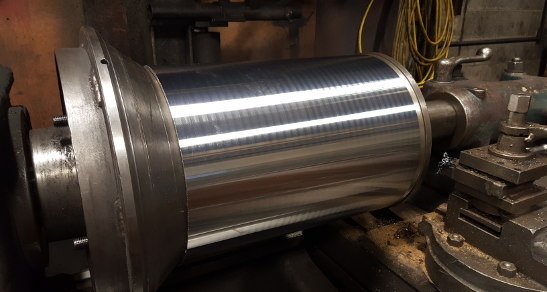 Custom vacuum chambers
Millinocket Fabrication and Machine specializes in custom stainless steel and aluminum vacuum chambers with large, complex geometries for many applications. Choose from vacuum components, weldments, custom vacuum chambers, and fully integrated vacuum systems manufactured to your specifications. Millinocket's custom vacuum system department provides custom-engineered vacuum systems from start to finish. Choose Millinocket for high-quality custom pressure control environments designed for custom vacuum chamber construction.
We have been providing custom vacuum chamber construction for a number of industrial applications for decades. Millinocket's custom vacuum chambers are perfect for semiconductor equipment, research, PV tools, and particle accelerator components. We specialize in producing aluminum, steel, and stainless-steel vacuum chambers for customers. With state-of-the-art technology, Millinocket has been able to develop high-volume production engineered vacuum chambers.
Our Process
Vacuum chambers are large, protective enclosures that we use to contain vacuum treatment processes inside the furnace. One or more door(s) for the loading and unloading of parts that prevent them from coming into contact with the furnace are attached to an outer shell that encloses a vacuum. The look of the Vacuum Chamber is very similar to an autoclave or a horizontal pressure vessel.
Fabricating and assembling a Vacuum Furnace will start with ASME code calculations if there is a positive pressure in the Chamber, but always begins with drawings supplied by Millinocket or the furnace OEM. Fabrication includes:
Plate rolling
Fitting of nozzles and flanges
Machining of chamber and door flanges
Welding to ASME standards
Blasting and painting
The next step is non-destructive testing which involves a leak test while the chamber door is open. One of the best ways to protect your seal throughout its lifetime, and avoid having to weld each time it leaks, would be to post-weld any melted areas that have dissolved or welder defects.
Vacuum chamber testing
Millinocket Technology has experience performing vacuum testing and pressure-controlled environments. We provide custom vacuum chambers specifically designed to achieve your vacuum testing requirements. We manufacture custom vacuum chambers for industrial applications, including semiconductor manufacturing equipment, cathode processing tools, glass melting furnace systems, and biotech research equipment. Millinocket has been custom fabricating custom vacuum systems since 1906.
Millinocket's custom vacuum chamber fabrication department manufactures custom vacuum chambers in carbon steel, stainless steel, and aluminum. Depending on your custom vacuum requirements, custom vacuum chambers can be made using a variety of materials.
Choose Millinocket for Your Vacuum Systems
With many different Vacuum Systems and Chamber fabrication services offered, we take control of the entire process and provide high-quality completed products to our customers. This has led to success for us in this industry because it allows vendors to come directly to Millinocket Machine for their needs. We are a certified ASME Code Section I and Section VIII, Division I fabrication shop. To learn more, contact us today.